Quick Overview
'M Slaz 150' This is another modern sports bike of Yamaha, Which is recently a very popular bike among the young bikers worldwide even in Bangladesh. Yamaha's this bike also came to Bangladesh by importers. It was first introduced in Thailand, but it is now being built in India. In the context of Bangladesh, the Yamaha M Slaz price is also a little high, but young and passionate bike lovers of the country still love it.
- This model is made full of features with sporty riding position and powerful engine with solid build quality.
- The bike Yamaha M-Slaz 150 has received major changes in the 2019 . The bike is now in use with a third generation 155cc VVA liquid-cooled engine from the Yamaha R15. The bike's exterior has also received significant changes.
- Although the Yamaha M Slaz 150 bike is not officially sold by Yamaha in the Bangladeshi market, it is available at a much higher price in the local market thanks to importers.
This bike uses 149 cc engines, which is single cylinder, and its maximum power is 12.2kw @ 8,500rpm and maximum torque 15N.m @ 7,500rpm, its a Liquid-cooled, 4-stroke and SOHC engine, The engine includes a 6 speed gearbox, and its maximum speed is 135 kilometers per hour.
সংক্ষিপ্ত বিবরণ
M-Slaz 150 এটি Yamaha এর আরো একটি আধুনিক Sports বাইক। বিশ্বব্যাপী তরুণদের জনপ্রিয় এই বাইকটি এখন বাংলাদেশেও পাওয়া যাচ্ছে। Yamaha এর এই বাইকটিও আমদানিকারকদের হাতধরেই বাংলাদেশে এসেছে। এটি প্রথমত থাইল্যান্ডে অানুষ্টানিক ভাবে তৈরি আরম্ভ হলেও তা এখন ভারতেও তৈরি হচ্ছে। বাংলাদেশের প্রেক্ষাপটে Yamaha M Slaz 150 বাইকটির মূল্য কিছুটা বেশি হলেও, বাংলাদেশের তরুণ এবং কেতাদুরস্ত বাইকারদের কাছে এখনো এটিই প্রথম পছন্দের।
- এই মডেলটি স্পোর্টি রাইডিং পজিশন এবং শক্ত বিল্ড মানের শক্তিশালী ইঞ্জিন সহ তৈরি।
- 2019 সালে এসে Yamaha M-Slaz 150 এ বাইকটিতে বড় ধরনের পরিবর্তন এসেছে। বাইকটিতে এখন তৃতীয় প্রজন্মের Yamaha R15 এর 155 সিসি ভিভিএ তরল-কুল্ড ইঞ্জিনটি ব্যবহার করা হচ্ছে। বাইকটির বহিরাবরণেও উল্লেখযোগ্য পরিবর্তন এসেছে।
- Yamaha M Slaz 150 বাইকটি বাংলাদেশের বাজারে Yamaha অফিসিয়ালী বিক্রি না করলেও আমদানিকারকদের বদৌলতে তা স্থানীয় বাজারে অনেক চওড়া মূল্যে পাওয়া যাচ্ছে।
এই বাইকটিতে 149 সিসি ইঞ্জিন ব্যবহার করা হয়েছে যা একক সিলিন্ডার, এবং এর সর্বাধিক শক্তি 12.2kw @ 8,500rpm এবং সর্বাধিক টর্ক 15N.m @ 7,500rpm, এটি একটি oil-cooled, 4-স্ট্রোক এবং এসওএইচসি ইঞ্জিন, বাইকটিতে রয়েছে ৬ গতির গিয়ার বাক্স এবং এর সর্বোচ্চ গতি প্রতি ঘন্টায় 135 কিলোমিটার।
Key Features of Yamaha M Slaz 150
Price in Bangladesh
425,000 BDT
Mileage Per Liter
35 Kmpl (comb..)
Top Speed Ability
130 Kmph (appr..)
Engine CC & Type
150cc oil-cooled
Yamaha M-Slaz Real Images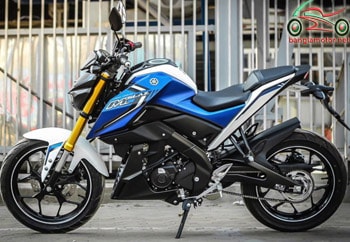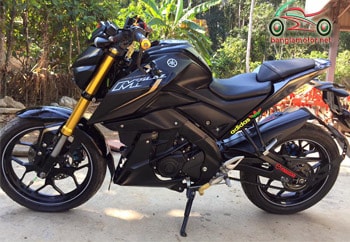 Body Dimensions

Length / Width / Height
1955 mm / 795 mm / 1065 mm
Wheel base
1350 mm
Ground clearance
164 mm
Kerb weight
135 kg
Fuel tank capacity
10.2 litres

Engine Details

Type
149cc, Fuel-injected, Single Cylinder, Liquid Cooled
Displacement
149 cc
Max net power
16.09 Bhp @ 8500 rpm
Max net torque
14.3 NM @ 7500 rpm
Bore
57.0 mm
Starting method
Electric
Ignition
TCI
Fuel System
Fuel Injection

Transmission Details

Gear type
Manual, 1-N-2-3-4-5-6
Number Of Speed Gears
6 Speed

Tyres & brakes

Tyre Size (Front)
110/70-17 M/C 54S
Tyre Size (Rear)
130/70-17 M/C 62S
Wheel Size
17-inch
Brakes Front
267mm Hydraulic Single Disc
Brakes Rear
220mm Hydraulic Single Disc

Frame & Suspension

Chassis Type
Delta box frame
Suspension-Front
37 mm Upside Down (USD) telescopic forks
Suspension-Rear
Swing Arm (shock absorber)

Electricals

Battery
12 V, YTZ4V (MF)
Head Lamp
Full LED head light
Here mentioned information may not 100% accurate. Most of the information we are collecting from manufacturer website. There is always having a change to make mistake while adding information. Kindly inform us, if you found any kinds of mistake.