Quick Overview
The TVS Stryker 125 model is especially suited to the Bangladesh market. TVS has brought some changes in the market for India and Bangladesh in some of their models. TVS Bangladesh is very optimistic about this bike. This series is also being circulated widely by the promotion of this bike. So far it has a great response to the market in Bangladesh.
- TVS has given this Stryker 125 bike a somewhat muscular and quite attractive look, which is enough as a low priced 125cc standard bike.
- The TVS Stryker 125 bike uses digital speedometer and analog RPM meter with excellent instrument cluster.
- Tubeless tires are currently used in the bike, so long-distance riding confidence remains intact.
- The Stryker 125 bike has 240 mm disc brakes on the front wheels and 130 mm drum brakes on the rear wheels, which ensures fairly good braking.
- This bike has features like PDC cast pillion footrest and LED tail lamp.
- Many questions come up about the quality and stability of the bike's spare parts.
- The braking performance of its rear wheels is not very good as a 125cc bike.
In this bike, the 124.5cc engine has been used, which includes Single Cylinder, 4 Stroke, Air Cooled and Spark Ignition Engine. Its maximum power is 8.0 (11 bhp) @ 8000 rpm and maximum torque 10.8 Nm @ 5500 rpm. It uses a 4-speed Constant Mesh Gear. The bike is capable of running at a maximum speed of 100 kilometers per hour. And it can go up to 65 kilometers per liter of fuel. Its weight is 117 kilograms. More details about the bike in the following statement.
সংক্ষিপ্ত বিবরণ
TVS Stryker 125 এ মডেলটি বিশেষ করে বাংলাদেশী মার্কেটের উপযোগী করে তৈরি। TVS তাদের কিছু কিছু মডেলে ভারত এবং বাংলাদেশের মার্কেটের জন্য আলাদা ভাবে কিছুটা পরিবর্তন এনেছে। TVS বাংলাদেশের এ বাইকটি নিয়ে ব্যাপক আশাবাদি। এরি ধারাবাহিকতায় এ বাইকটির ব্যাপক প্রচার প্রচারনাও চালাচ্ছে। এখনো পর্যন্ত বংলাদেশের মার্কেটে এটির দারুন সাড়া মিলছে।
- TVS তাদের এই Stryker 125 বাইকটিকে কিছুটা পেশিবহুল এবং বেশ আকর্ষনীয় লুক দিয়েছে, যা একটি স্বল্প মূল্যের 125cc standard বাইক হিসাবে যথেষ্ট।
- TVS Stryker 125 বাইকটিতে চমৎকার instrument cluster এর সাথে digital speedometer এবং এনালগ RPM meter ব্যবহৃত হয়েছে।
- বর্তমানে বাইকটিতে tubeless tyre ব্যবহার করা হয়, এতেকরে দুরপাল্লার রাইডিংয়েও আত্মবিশ্বাস অটুট থাকে।
- Stryker 125 বাইকটির সামনের চাকায় 240 mm disc brake এবং পিছনের চাকায় 130 mm drum brake দেওয়া হয়েছে, যা মোটামুটি ভালো ব্রেকিংয়ের নিস্চয়তা দেয়।
- এ বাইকটিতে PDC cast pillion footrest এবং LED tail lamp এর মত সুবিধা রয়েছে।
- TVS Stryker 125 বাইকটির খুচরা যন্ত্রাংশের গুনগতমান এবং স্থিতিশীলতা নিয়ে অনেক প্রশ্ন আসে।
- একটি 125cc বাইক হিসাবে এটির পেছনের চাকার ব্রেকিং কর্মক্ষমতা তুলনামূলক খুব একটা ভালো নয়।
এ বাইকটিতে ১২৪.৫ সি সি ইঞ্জিন ব্যবহার করা হয়েছে, যা Single Cylinder , 4 Stroke, Air Cooled Spark Ignition Engine। এটির সর্বোচ্চ শক্তি 8.0 (11 bhp) @ 8000 rpm এবং সর্বোচ্চ ঘূর্ণন বল 10.8 Nm @ 5500 rpm। এতে ৪ গতির Constant Mesh গিয়ার ব্যবহার করা হয়েছে। এ বাইকটি সর্বোচ্চ প্রতি ঘন্টায় ১০০ কিলোমিটার গতিতে চলতে সক্ষম। এবং এটি প্রতি লিটার জ্বালানীতে গড়ে ৬৫ কিলোমিটার পর্যন্ত যেতে সক্ষম। এটির ওজন ১১৭ কিলোগ্রাম। বাইকটি সম্পর্কে আরো বিস্তারিত নিম্নের বিবরণীতে।
Key Features of TVS Stryker 125
Price in Bangladesh
137,990 BDT
Mileage Per Liter
65 Kmpl (comb..)
Top Speed Ability
100 Kmph (appr..)
Engine CC & Type
125cc air-cooled
TVS Stryker 125 Real Images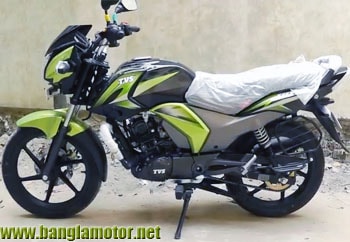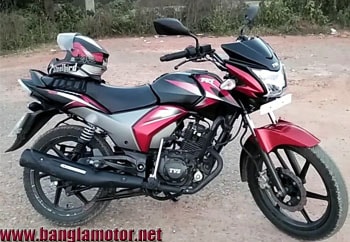 Body Dimensions

Length / Width / Height
2013 mm / 752 mm / 1085 mm
Wheel base
1273 mm
Ground clearance
173 mm
Kerb weight
117kg (with tool kit & 90% of fuel)
Fuel tank capacity
14.5 litres (reserve 2.7 litres)

Engine Details

Type
single cylinder , 4 stroke, air cooled, spark ignition engine
Displacement
124.5 cc
Max net power
8.0 (11 bhp) @ 8000 rpm
Max net torque
10.8 Nm @ 5500 rpm
Starting method
Electric / Kick
Ignition
DC-Digital TCI
Fuel System
Carburetor, UCAL UCD 25

Transmission Details

Gear type
Manual
Number Of Speed Gears
4 Speed

Tyres & brakes

Tyre Size (Front)
Drum 2.75*17 (Tube type) Disc 2.75*17 tubeless
Tyre Size (Rear)
Drum 90/90*17 (Tube type)Disc 90/90*17 tubeless
Wheel Size
Front :-17 inch, Rear :-17 inch
Brakes Front
Hand operated, 240mm dia.disc
Brakes Rear
Foot operated, internally expanding 130mm dia.drum

Frame & Suspension

Chassis Type
Single cradle tubular frame
Suspension-Front
Telescopic hydraulic type
Suspension-Rear
Toggle link with hydraulic damper

Electricals

Battery
12V,5Ah Lead Acid type
Head Lamp
12V, 35/35W×1
TVS Stryker details overview in Bangladesh including price
A leading bike manufacturing employer TVS used to launch their merchandise in Bangladesh via the dealers that's Indian Beginning Corporation. After Bajaj, TVS is the most important two wheelers enterprise in India however thinking about the recognition, within very quick time, TVS has come to the equal level with Bajaj and executed almost equal reputation. Like India, in Bangladesh TVS corporation is doing their business thoroughly with their distinct merchandise.
TVS Stryker is regarded as one of the top made from TVS in Bangladesh which was launched in last February, 2016. It is one of the first-class 125 cc bike and has turn out to be the competitor of Bajaj discover125, Hero Glamour 125 and couple of other motorcycles.
TVS Stryker 125 is one of the present day model motorbike that is but to be marketed by way of the employer. With the exception of India, the model of motorcycle is available in two more different country named Colombia and Bangladesh. If you need a powerful and fashionable motorbike inside reasonable price together with handsome mileage, then possibly TVS Stryker 125 would be fine for you. Let's find out below the information of Stryker 125 bike which could assist to make any selection.
Design & appears: TVS Stryker 125 is a decent looking commuter that's designed via following nearly the equal body of TVS phoenix 125. However, the pictures and frame formed are completely modified of Stryker. However, rear part of the motorcycle is relatively blend with Apache RTR. It's fuel tank, tank kit and seating position are completely new designed which could be chosen at the primary sight. It's tail light design is alike with RTR which may be erroneous from the rear. No longer best the tail lamp but also the headlamp casing is likewise comparable with RTR. So, average, the looks of the motorbike is extremely good.
Engine overall performance: The engine of TVS Stryker 125 consists of 124.53 cc engine with single cylinder, air cooled, and four stroke era. With 8.0 (11 bhp) @ 8000 rpm max power and 10.8 Nm @ 5500 rpm max torque, the acceleration of the motorcycle is very good. It could run with extra than 100 km in step with hour pinnacle speed. The compression ratio is 9:4:1 and the ignition machine is DC – digital TCI. The bore is 57 mm and stroke is 48.8 mm. Along side kick start, electric starter is likewise introduced into the bike.
Dimensions & seating position: The measurement of the bike is completely in fashionable level. The length of the machine is 2013 mm, width is 752mm and peak is 1085 mm. It's miles completely suitable with differing types riders. Single cradle tubular frame chassis makes the motorcycle fantastic. Wheelbase is 1273 mm and 173 mm ground clearance is the best measures to keep away from pace breaker on avenue smoothly. Even though, it's miles a fashionable motorbike however seating position is appears smaller that can endure one pillion without problems however for two pillion it would be tough. But the seating function is nearly at ease.
Suspension & brakes: The front suspension of TVS Stryker 125 cc is telescopic which would provide sufficient comfort and for rear, present day toggle link with hydraulic damper suspension is used. The suspensions are too properly and relatively higher than most same phase bikes. The brakes of the motorcycle is also top which includes front hydraulic brake and for rear, drum brake is used.
Mileage: The mileage of Stryker 125 is superb that could offer extra than 60 km mileage on City Avenue and more than 70 km mileage at the dual carriageway. But to make certain better mileage, the riders have to keep speed limitation. So, in step with the customers of Stryker125, the common mileage of the motorbike would be 65 km.
Device panel & features: The device panel of TVS Stryker 125 is made with entire contemporary technology which has whole digital speedometer and tachometer. Except, the motorbike has nicely configured battery which includes 12v 5Ah and the kind is Lead Acid. Complete led tail lamp with 12v 35/35w headlight used to assist rider at night time driving.
Color & price: Two shades of TVS Stryker 125 are available in Bangladesh which are Red and Blue. And the updated price of this device is BDT 1, 22000.
Here mentioned information may not 100% accurate. Most of the information we are collecting from manufacturer website. There is always having a change to make mistake while adding information. Kindly inform us, if you found any kinds of mistake.