Key Features of Honda CB150R Streetfire
Price in Bangladesh
BDT 380,000
Mileage Per Liter
45 Kmpl Approx
Top Speed Ability
140 Kmph Approx
Engine CC & Type
149.16cc Liq-cooled
Quick Overview
Honda CB150R Streetfire is one of the top rated Honda's racing bikes, which is the member of world famous CB150R naked sport bike series. The CB150R Streetfire is also made by PT Astra Honda Motor one of the subsidiaries of Honda Global. The bike was made in Indonesia for south Asian markets including Bangladesh. Honda is not officially selling this model in Bangladesh, but it is also available here due to importers. As a street naked bike the Streetfire is comfortable for everyday city life.
The bike uses a 149.16cc engine, which is 4-Stroke, DOHC, 4-Valve, Single Cylinder, Liquid Cooled. The bike can produce maximum power of 16.8 Bhp @ 9000 rpm and maximum torque 13.8 Nm @ 7000 rpm. It has a 6-speed gearbox, which can run at a maximum speed of 135 kilometres. Its front disc brake is 276 mm and the back disc brake is 220 mm. It is a tough competitor of the Yamaha M-slaz and Suzuki GSX-S150 in the international market.
সংক্ষিপ্ত বিবরণ
Honda CB150R Streetfire হোন্ডার অন্যতম দামি একটি রেসিং বাইক, যা বিশ্বখ্যাত CB150R স্পোর্ট বাইক সিরিজের সদস্য। হোন্ডা গ্লোবাল এর অন্যতম সহায়ক পিটি আস্ট্র্রা হোন্ডা মোটর দ্বারা তৈরি Honda CB150R Streetfire। বাংলাদেশ সহ দক্ষিণ এশিয়ার বাজারগুলির জন্য বাইকটি ইন্দোনেশিয়ায় তৈরি। হোন্ডা আনুষ্ঠানিকভাবে বাংলাদেশে এই মডেলটি বিক্রি করছে না, তবে আমদানিকারকদের কারণে এটি এখানেও পাওয়া যায়। রাস্তার অন্যতম সেরা বাইক হিসাবে স্ট্রিটফায়ার দৈনন্দিন নগর জীবনের জন্য আরামদায়ক।
বাইকটিতে 149.16 সিসি ইঞ্জিন ব্যবহৃত হয়েছে, যা 4-স্ট্রোক, ডিওএইচসি, 4-ভালভ, সিঙ্গেল সিলিন্ডার, লিকুইড কুলড। বাইকটি সর্বাধিক 16.8 বিপিপি পাওয়ার 9000 আরপিএম এবং সর্বোচ্চ টর্ক 13.8 এনএম @ 7000 আরপিএম উৎপাদন করতে পারে produce এটিতে একটি 6-গতির গিয়ার বক্স রয়েছে, যা 135 কিলোমিটারের সর্বোচ্চ গতিতে চলতে পারে। এর সামনের ডিস্ক ব্রেকটি 276 মিমি এবং পিছনের ডিস্ক ব্রেকটি 220 মিমি। এটি আন্তর্জাতিক বাজারে ইয়ামাহা এম-স্ল্যাজ এবং সুজুকি জিএসএক্স-এস150 এর শক্ত প্রতিযোগী।
Honda CB150R Streetfire Authentic Image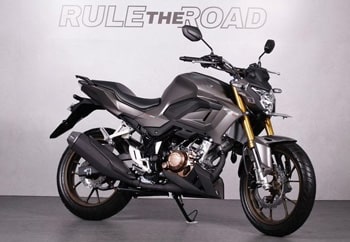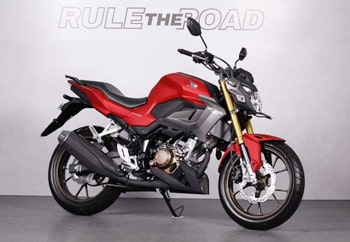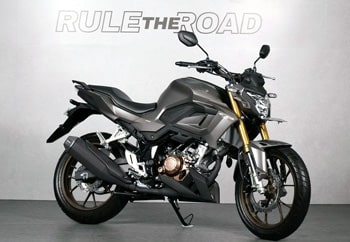 Quick View
Engine
150 cc
Bike Category
Naked Sports
Availability
Unofficially Available
Engine & Transmission Details
Displacement
149.16 cc
Engine Type
Single cylinder, 4 stroke, DOHC, 4 valves
Max Power
16.7 Bhp @ 9,000 rpm
Max Torque
13.8Nm @ 7000RPM
BORE x STROKE
57.3 mm x 57.8 mm
Gears
6
Compression Ratio
11.3 : 1
Clutch
Wet
Engine Cooling
Liquid Cooled
Fuel Supply
Fuel Injection
Starting Method
Electric Starter
Transmission Type
Manual
Emission Standard
BS-VI
Overall Dimensions
Fuel Tank Capacity
12 Liters
Ground Clearance
169 mm
Height
1039 mm
Overall Length
2019 mm
Overall Width
719 mm
Seat Height
797 mm
Weight
136 kg
Wheelbase
1293 mm
Wheels & Suspensions
Chassis Type
Diamond (Truss) Frame
Brake (front)
276 mm Hydraulic Disc with Dual Piston
Brake (rear)
220 mm Hydraulic Disc with Single Piston
Suspension (front)
Telescopic
Suspension Rear
Monoshock
Tyre (front)
100/80 – 17
Tyre (rear)
130 / 70-17
Tyre Type
Tubeless
Wheel Type
Alloy
Speed & Mileage
Mileage (Average)
35 Kmpl (Approx)
Top Speed
140 Kmph (Approx)
Electrical Details
Battery
Maintenance Free 12 V
Connection Type
DC
Headlight
12V, 55W/60W
Tail Light
LED
Indicators
LED
Other Features
Engine Kill Switch Availability
No
Bike Handle Type
Rod Handle Bar
Fuel Gauge
Digital
Speedometer
Digital
RPM Meter
Digital
Odometer
Digital
Pass Switch
Yes
Seat type
Split
Here mentioned information may not 100% accurate. Most of the information we are collecting from manufacturer website. There is always having a change to make mistake while adding information. Kindly inform us, if you found any kinds of mistake.