Suzuki GSX R150 Price in Bangladesh 2021With quick Specifications and Overview
| | |
| --- | --- |
| Suzuki GSX R150 Non ABS | Tk.350,000 |
| Suzuki GSX R150 SP with ABS | Tk.395,000 |
Lust Update: 05-Oct-2021
Motorcycle Loan EMI Calculator
বাইকের কিস্তির পরিমান এবং সর্বমোট মূল্য নির্ণয়ক
Fill in the blanks in English
Quick Overview
Suzuki GSX R150 is one of the most popular inventions of Suzuki in the 150 cc segment in Bangladeshi bike market. The unique design and powerful engine have created a value of this model to the all fashionable bikers. This model was initially launched by Suzuki on 2nd November 2016 in Indonesia. Gradually, it got wide popularity throughout the South Asian market.
- The Suzuki GSX R150 bike is currently available in the FI engine in Bangladesh with a combination of some excellent graphics, which is now referred to by amateur bike lovers as black or red leopard.
- The main attraction of this bike is its remarkable sporty look and its engine efficiency which is also worth mentioning. It uses a fuel injected, water cooled engine and without fluids GSX R150 weighs just 126 kg. The looks and style of Suzuki GSX – R150 is totally unique in Bangladesh.
- The Suzuki GSX R150 bike is currently available in Bangladesh with Dual Channel ABS, which will help in safe riding.
- The Suzuki GSX R150 bike is a bit smaller in size and also a bit lighter in weight so it will not perform well on rough roads or riding on bad roads will not be comfortable.
Although the Suzuki GSX R150 and GSX S150 have an implicit formation, it uses the same engine. GSX R150 has more Sporty Look and modern facilities than GSX S150. There are enough connotations of their prices in Bangladesh. Two Bike 147.3cc engines, which has the maximum power of 18.90 Bhp @ 10,500 rpm, and the maximum torque is 14 Nm @ 9000 rpm. It is a single cylinder, liquid-cooled, 4-stroke, 4-valve engine. It uses the fuel-injection fuel method, which puts the role of good mileage.
সংক্ষিপ্ত বিবরণ
Suzuki GSX R150 বাংলাদেশের বাইক বাজারে ১৫০ সিসি বিভাগে সুজুকির অন্যতম জনপ্রিয় উদ্ভাবন। অনন্য নকশা এবং শক্তিশালী ইঞ্জিন সমস্ত ফ্যাশনেবল বাইকারদের কাছে এই মডেলের একটি মান তৈরি করেছে। সুজুকি এই মডেলটি প্রথম দিকে ২ নভেম্বর ২০১৬ এ ইন্দোনেশিয়ায় চালু করেছিল। ধীরে ধীরে, এটি দক্ষিণ এশিয়ার বাজার জুড়ে ব্যাপক জনপ্রিয়তা পেয়েছিল।
- Suzuki GSX R150 বাইকটি বর্তমানে কয়েকটি চমৎকার গ্রাফিক্সের সমন্বয় সহ FI ইঞ্জিনে বাংলাদেশের বাজারে পাওয়া যাচ্ছে, যেটিকে বর্তমানে সৌখিন বাইক প্রেমিরা কালো কিংবা লাল চিতাবাগ বলে অভিহিত করে।
- বাইকটির মূল আকর্ষন হচ্ছে এটির অসাধারণ স্পোর্টি লুক এবং এটির ইঞ্জিন দক্ষতা যা উল্লেখ করার মত। বাইকটিতে ফুয়েল ইনজেক্টেড, ওয়াটার কুলড ইঞ্জিন ব্যবহার করা হয়েছে এবং এটির ওজন মাত্র ১২৬ কেজি (তেল ছাড়া)।
- Suzuki GSX R150 বাইকটি বর্তমানে Dual Channel ABS সহ বাংলাদেশের বাজারে পাওয়া যাচ্ছে, যা নিরাপদ রাইডিং করার সহায়ক ভুমিকা পালন করবে।
- Suzuki GSX R150 বাইকটি আকারে কিছুটা ছোট এবং ওজনেও তুলনামূলক কিছুটা হালকা হওয়ায় এটি রুক্ষ রাস্তায় ভালো সঞ্চালন করবেনা বা খারাপ রাস্তায় রাইডিং আরামদায়ক হবেনা।
Suzuki GSX R150 এবং GSX S150 বাহ্যিক গঠনে পার্থক্য থাকলেও এতে একই ইঞ্জিন ব্যবহার করা হয়েছে। GSX S150 এর তুলনায় GSX R150 বেশি স্পোর্টি লুক এবং আধুনিক সুবিধা সম্বলিত, এবং বাংলাদেশে এগুলোর দামেও রয়েছে যথেষ্ট পার্থক্য। দুটি বাইকেই ১৪৭.৩ সি সি ইঞ্জিন, যার সর্বোচ্চ ক্ষমতা 18.90 Bhp @ 10,500 rpm, এবং সর্বোচ্চ ঘূর্ণন বল 14 NM @ 9000 rpm। এটি Single cylinder, liquid-cooled, 4-Stroke, 4-Valve ইঞ্জিন। এটিতে fuel-injection জ্বালানি পদ্ধতি ব্যবহার করা হয়েছে, যা ভাল মাইলেজে ভূমিকা রাখে।
Key Features of Suzuki GSX R150
Price in Bangladesh
350,000 BDT
Mileage Per Liter
43 Kmpl (comb..)
Top Speed Ability
130 Kmph (appr..)
Engine CC & Type
150cc f-injection
Suzuki GSX R150 Real Image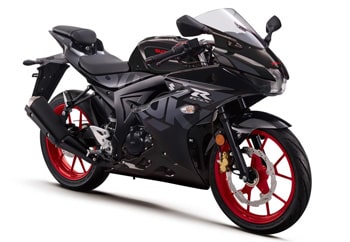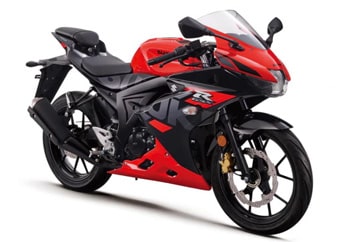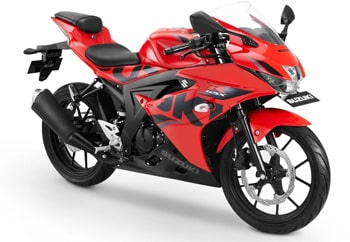 Top Features
Engine Type
4-Stroke, 1-cylinder, Air cooled
Displacement
155 cc
Max Power
13.6 PS @ 8000 rpm
Max Torque
13.8 Nm @ 6000 rpm
No. of Cylinders
1
Cooling System
Air Cooled
Valve Per Cylinder
2
Drive Type
Chain Drive
Starting
Self Start Only
Fuel Supply
Fuel Injection
Transmission
Manual
Gear Box
5 Speed
Bore
56 mm
Stroke
62.9 mm
Emission Type
bs6
Safety & Features
ABS
Single Channel / Non ABS
Console
Digital
Pass Switch
Yes
Clock
Yes
Adjustable Windscreen
Yes
Additional Features
Twin Muffler, Aerodynamic Design
Passenger Footrest
Yes
Chassis & Suspension
Body Type
Sports Bikes
Front Suspension
Telescopic
Rear Suspension
Swing arm
Overall Dimensions
Length
2025 mm
Width
715 mm
Height
1035 mm
Fuel Capacity
12 L
Saddle Height
795 mm
Ground Clearance
165 mm
Wheelbase
1340 mm
Kerb Weight
148 kg
Electrical Details
Headlight
LED
Tail Light
LED
Turn Signal Lamp
LED
LED Tail Lights
Yes
Battery Type
Maintenance Free
Battery Capacity
12 V, 3 Ah
Low Fuel Indicator
Yes
Brake & Tyres
Tyre Size
Front :-100/80-17, Rear :-140/60-17
Tyre Type
Tubeless
Wheel Size
Front :-431.8 mm,Rear :-431.8 mm
Wheels Type
Alloy
Front Brake
Disc
Rear Brake
Disc
Radial Tyre
Yes
Here mentioned information may not 100% accurate. Most of the information we are collecting from manufacturer website. There is always having a change to make mistake while adding information. Kindly inform us, if you found any kinds of mistake.