Quick Overview
Indian motorbike manufacturer Bajaj Auto invents one more stylish, powerful and mechanically creative bike, which is Pulsar NS125. The bike is eligible for Bangladeshi market place. Officially the bike category is light sports, which is wonderful designed of standard and sport combination. Let's see the key features of "Pulsar NS 125".
- Bajaj Auto claims that the 'Pulsar NS125' is the first motorcycle in the world market to feature a 4-valve engine.
- The Pulsar NS125 bike also features like maintenance-free fuel injection system, DTS-i and Exhausted.
- This cute little boy "Pulsar NS125" is very much suitable for young students.
- The bike top speed 110 Kmph, and it can carry 10.5 liter of fuel. Mileage approx. 40 Kmpl (combined) .
- The bike Pulsar NS125 is available with 4 colors with wonderful graphics.
Bajaj used 124.45cc DTS-i engine which is single-cylinder air-cooled SOHC that comes paired with a 5-speed transmission, it is good for the maximum power 12PS at 8500rpm and 11Nm at 6000rpm of torque.
সংক্ষিপ্ত বিবরণ
ভারতীয় মোটরবাইক প্রস্তুতকারক বাজাজ অটো আরও একটি স্টাইলিশ, শক্তিশালী এবং যান্ত্রিকভাবে সৃজনশীল বাইক বাজারে এনেছে যেটির নাম Pulsar NS125। বাইকটি বাংলাদেশের বাজারের জন্য উপযুক্ত যদিও প্রথমি ভাবে এটি এখনো বাংলাদেশের বাজারে আসেনি। এটি একটি Light Sports বাইক যা Sport এবং Standard বাইকের সমন্বয়ে তৈরি দারুন এক বাইক। আসুন "Pulsar NS125" এর মূল বৈশিষ্ট্যগুলি নেই।
- Bajaj Auto দাবি করেছে যে 'Pulsar NS125' বিশ্ববাজারের প্রথম মোটরসাইকেল যা একটি 4-ভালভ ইঞ্জিন বৈশিষ্ট্যযুক্ত।
- Pulsar NS125 বাইকটিতে রক্ষণাবেক্ষণ-মুক্ত Fuel Injection পদ্ধতি, DTS-i ইঞ্জিন।
- এই চমৎকার মোটরসাইকেল নাম "Pulsar NS125" যা তরুণ শিক্ষার্থী কিংবা কেতাদুরস্ত জনসাধারণের জন্য দারুন উপযোগী।
- বাইকের শীর্ষ গতি ১১০ কি.মি প্রতি ঘন্টায়, এবং এটি 10.5 লিটার জ্বালানী বহন করতে পারে। বাইকটির মাইলেজ প্রায় 40 Kmpl.
- Pulsar NS125 বাইকটি দুর্দান্ত রঙের গ্রাফিক্স সহ 4 টি রঙের সাথে পাওয়া যায়।
বাজাজ 124.45cc ইঞ্জিন ব্যবহার করেছে যা single-cylinder air-cooled SOHC এবং এতে রয়েছে 5 গতির গিয়ার। এটির সর্বচ্চ শক্তি 12PS at 8500rpm এবং সর্বচ্চ ঘূর্ণন বল 11Nm at 6000rpm উৎপন্ন করতে। বাইকটির সর্বচ্চ গতি 110 কিলোমিটার প্রতি ঘন্টায়, এবং এটি 10.5 লিটার জ্বালানী বহন করতে পারে। এর মাইলেজ প্রায় 40 Kmpl (মিলিত ভাবে)।
Key Features of Bajaj Pulsar NS125
Price in Bangladesh
Coming Soon
Mileage Per Liter
40 Kmpl (comb..)
Top Speed Ability
110 Kmph (appr..)
Engine CC & Type
125cc air-cooled
Bajaj Pulsar NS125 Real Images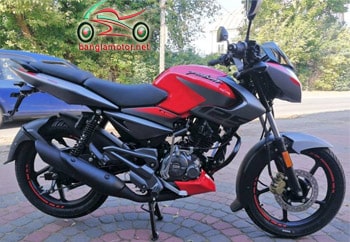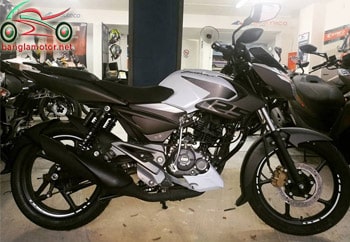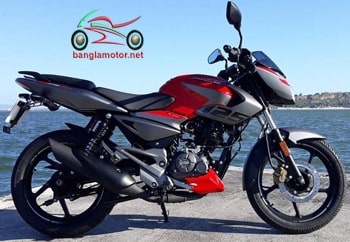 Body Dimensions

Length / Width / Height
1995 mm / 765 mm / 1045 mm
Wheel base
1325 mm
Kerb weight
126.5 kg
Fuel tank capacity
11.5 L

Engine Details

Type
Air-Cooled, 4-Stroke, Single cyl, 4-valve, DTS-I with ExhausTEC
Displacement
124.45 cc
Max net power
12PS at 8500rpm
Max net torque
11Nm at 6000rpm
Bore
54.0 mm
Starting method
Kick and Electric Start
Fuel System
Fuel Injection

Transmission Details

Gear type
Manual
Number Of Speed Gears
5 Speed

Tyres & brakes

Tyre Size (Front)
17-inch
Tyre Size (Rear)
17-inch
Wheel Size
Front :-17 inch, Rear :-17 inch
Brakes Front
240 mm Disc
Brakes Rear
130 mm Drum

Frame & Suspension

Suspension-Front
Telescopic, with anti-friction bush
Suspension-Rear
5 way adjustable, Nitrox shock absorber

Electricals

Battery
12 V, 5 Ah, Maintenance Free
Head Lamp
12V 35/35W
Here mentioned information may not 100% accurate. Most of the information we are collecting from manufacturer website. There is always having a change to make mistake while adding information. Kindly inform us, if you found any kinds of mistake.