Bajaj Pulsar Neon 150 Price in Bangladesh 2021 With quick Specifications and Overview
| | |
| --- | --- |
| Pulsar Neon 150 (SD) | Tk.154,900 |
| Pulsar Neon 150 (ABS) | Not Available |
Lust Update: 12-Apr-2021
EMI বা কিস্তির বিস্তারিত দেখে নিন
বাইকের কিস্তির পরিমান এবং সর্বমোট মূল্য নির্ণয়ক
খালিস্থানগুলো ইংরেজিতে পূরণ করুন
Quick Overview
Bajaj Pulsar Neon is a popular commuter bike available in Bangladesh. The long in the tooth, the combination of muscular style, good fuel efficiency and value for money makes it an extremely popular motorcycle in the two-wheeler market.With rear drum and front disk brakes, the top variant of Bajaj Pulsar 150 also has an anti-locking braking system.
- Contrasting colors at headlamp and the side panel mesh are two noticeable characteristics of this model that customers prefer most.
- With the better engine performance, this model provides huge mileage.
- Neon 150 is Cheap to maintain. There are no noticeable changes after the launching period of this model.
- At the beginning of 2021, there was no significant change in the bike.
It uses a 149.5cc air-cooled single-cylinder engine that is fuel-injected and BS6 compliant. It delivers 13.8bhp and 13.25Nm of torque and comes mated to a five-speed transmission. The Pulsar 150 is suspended by telescopic front forks up front and dual springs with adjustable preload at the rear. The braking setup consists of a disc brake at the front as standard and the choice of a drum or a disc brake at the rear. The cylinder engine of the Pulsar 150 has a 5 speed manual gearbox.
সংক্ষিপ্ত বিবরণ
Bajaj Pulsar Neon একটি কমিউটার বাইক যা বাংলাদেশের বাজারে রয়েছে। আকারে লম্বা, পেশীবহুল শৈলীর সংমিশ্রণ, জ্বালানি দক্ষতা এবং কম মূল্যের জন্য এটি বাজারে একটি অত্যন্ত জনপ্রিয় মোটরসাইকেল হিসাবে পরিচিত। রেয়ার ড্রাম এবং ফ্রন্ট ডিস্ক ব্রেক সহ বাজাজ পালসারে অ্যান্টি-লকিং ব্রেকিং সিস্টেম রয়েছে।
- হেডল্যাম্পের বিভিন্ন রকম রঙ এবং পার্শ্ব প্যানেল জাল এই মডেলের দুটি লক্ষণীয় বৈশিষ্ট্য যা গ্রাহকরা সবচেয়ে বেশি পছন্দ করেন।
- ভাল ইঞ্জিন এর জন্য এই মডেলটি অনেক মাইলেজ প্রদান করতে সক্ষম।
- Neon 150 মডেলটি অনেক সস্তায় চালিত করা যায়। বাজারে আসার পর থেকে এর তেমন কোনো কাঠামোগত পরিবর্তন হয়নি।
- ২০২১ সালের শুরুতেই বাইকটিতে উল্লেখযোগ্য বড় কোন পরিবর্তন আসিনি।
এটিতে 149.5 সিসি এয়ার-কুলড সিঙ্গল সিলিন্ডার ইঞ্জিন ব্যবহার করা হয়েছে যা জ্বালানী ইঞ্জেকশনযুক্ত এবং BS6 এর সাথে সামঞ্জস্যপূর্ণ। এটি 13.8bhp এবং 13.25Nm টর্ক সরবরাহ করে এবং পাঁচ গতির সংক্রমণে চালিত হয়। পালসার 150 টিলেস্কোপিক ফ্রন্টের পিছনে সামঞ্জস্যযোগ্য প্রিলোড এবং দ্বৈত স্প্রিংস দ্বারা স্থগিত করা হয়। ব্রেকিং সেটআপটিতে স্ট্যান্ডার্ড হিসাবে একটি ডিস্ক ব্রেক এবং পিছনে ড্রাম বা ডিস্ক ব্রেক থাকে। পালসার 150 এর স্ট্যান্ডার্ড ফিমেন্ট সিঙ্গল সিলিন্ডার ইঞ্জিনটিতে 5 স্পিড ম্যানুয়াল গিয়ারবক্স রয়েছে।
Key Features of Pulsar Neon 125
Price in Bangladesh
Tk.154,900
Mileage Per Liter
45 Kmpl (comb..)
Top Speed Ability
100 Kmph (appr..)
Engine CC & Type
150cc air-cooled
Bajaj Pulsar Neon 150 Real Images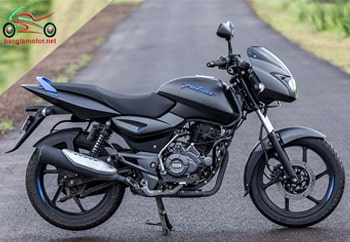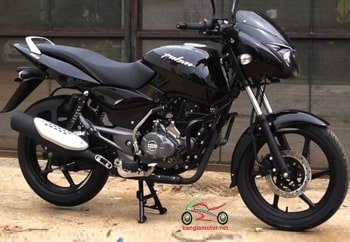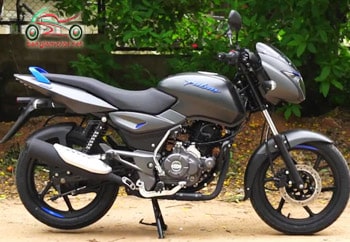 Body Dimensions

Length / Width / Height
2055 mm / 755 mm / 1060 mm
Wheel base
1320 mm
Ground clearance
165 mm
Kerb weight
140 kg
Fuel tank capacity
11.5 L

Engine Details

Type
149.5 cc, Single cylinder
Displacement
149.5 cc
Max net power
14 HP @ 8000 rpm
Max net torque
13.4 Nm @ 6000 rpm
Starting method
Electric-Kick
Fuel System
Carburetor

Transmission Details

Gear type
Manual
Number Of Speed Gears
5 Speed

Tyres & brakes

Tyre Size (Front)
80/100 x 17
Tyre Size (Rear)
100/90 x 17
Wheel Size
Front :-17 inch, Rear :-17 inch
Brakes Front
Disk
Brakes Rear
Disk

Frame & Suspension

Chassis Type
Semi-double cradle
Suspension-Front
Telescopic
Suspension-Rear
Twin Gas Shock

Electricals

Battery
12 V, Maintenance Free
Head Lamp
35/35W
Here mentioned information may not 100% accurate. Most of the information we are collecting from manufacturer website. There is always having a change to make mistake while adding information. Kindly inform us, if you found any kinds of mistake.