Quick Overview
Do you remember Honda XL100? That was the only and popular dirt bike in Bangladesh. After a long time Honda is going to launch another modern dirt bike which is Honda CFR150L. Basically it's an off-road motorcycle, very limited number of quality off-road motorcycle models are available here in Bangladesh.
- The bike uses a powerful 149cc 4-stroke, 2 valve, SOHC, air-cooled engine with PGM-Fi (programmed fuel injection) technology, which is very helpful for fuel efficiency and a stable performance.
- Honda CRF150L is a lightweight off-road bike, which has got a perfect look with a combination of great design and excellent graphics.
- The Honda CRF150L bike uses a fully digital meter panel, which displays all the necessary information like speedometer, odometer and tripmeter.
- As a Dirt bike, the Honda CRF150L bike has enough ground clearance and somewhat larger wheels than normal bikes.
- Honda CRF150L motorcycle uses Showa brand long travel inverted front fork and Pro-Link rear suspension. As you know, Showa is a reliable brand when it comes to suspension.
- In addition to Electric Start, the bike has front and rear disc brakes.
- Honda officially claims a mileage of 45.5 km/L for this bike, which is pretty good for an off-road motorcycle.
- There is not much off-road bike in Bangladesh like Honda CRF150L, ​​so this bike has huge potential in Bangladesh.
- The light weight black aluminum rim used on it is very helpful for off-road riding.
- The newly designed pillion seat of this Honda CRF150L bike is not very comfortable.
- The curb weight of this bike is relatively low, so it is not very suitable for highway riding.
The Bike Honda CFR150L includes a 149.15 cc engine, which is Single Cylinder, Air Cooled, SOHC. It can produce Maximum Power 12.91 PS @ 8000 rpm, Maximum Torque 12.43 Nm @ 6500 rpm. The bike comes with a Fuel Injection system. Honda CRF150L can run maximum speed 113 Kmph, and its mileage is 40 Kmpl.
সংক্ষিপ্ত বিবরণ
আপনার কি Honda XL100 এর কথা মনে আছে? এটি ছিল বাংলাদেশের একমাত্র এবং জনপ্রিয় Dirt বাইক। অনেক দিন পর Honda বাংলাদেশের বাজারে আরও একটি আধুনিক Dirt বাইক চালু করতে চলেছে যেটি হচ্ছে Honda CFR150L। মূলত এটি একটি অফ রোড মোটরসাইকেল, এ ধরনের মোটরসাইকেল মডেল খুব সীমিত সংখ্যক বাংলাদেশে দেখা যায়।
- বাইকটিতে শক্তিশালী 149cc 4-স্ট্রোক, 2 ভালভ, SOHC, এয়ার-কুলড ইঞ্জিনের সাথে PGM-Fi (programmed fuel injection) প্রযুক্তির ব্যবহার করা হয়েছে, যা জ্বালানি সাশ্রয়ীতা এবং একটা stable performance এর জন্য বেশ সহায়ক।
- Honda CRF150L একটি lightweight off-road বাইক, যেটি অসাধারণ ডিজাইন এবং চমৎকার গ্রাফিক্সের সমন্বয়ে এক পরিপূর্ণ রুপ পেয়েছে।
- Honda CRF150L বাইকটিতে সম্পূর্ণ ডিজিটাল মিটার প্যানেল ব্যবহৃত রয়েছে, খোনে স্পিডোমিটার, ওডোমিটার এবং ট্রিপমিটার এর মত প্রয়েজনীয় সমস্ত তথ্য প্রদর্শিত হয়।
- একটি Dirt বাইক হিসাবে Honda CRF150L বাইকটিতে যথেষ্ট গ্রাউন্ড ক্লিয়ারেন্স এবং সাধারণ বাইকের তুলনায় কিছুটা বড় আকারের চাকা দেওয়া হয়েছে।
- Honda CRF150L মোটরসাইকেলটিতে শোয়া ব্র্যান্ডের তৈরি লং ট্রাভেল ইনভার্টেড ফ্রন্ট ফর্ক এবং প্রো-লিংক রিয়ার সাসপেনশন ব্যবহার করা হয়েছে। আপনারা যানেন যে, সাসপেনশন এর ক্ষেত্রে শোয়া একটি নির্ভরযোগ্য ব্রান্ড।
- বাইকটিতে Electric Start ছাড়াও Front এবং Rear Disc ব্রেকের সুবিধা রয়েছে।
- Honda অফিসিয়ালি এই বাইকটির মাইলেজ দাবি করছে 45.5 km/L, যা একটি অফ-রোড মোটরসাইকেলের জন্য বেশ ভালো।
- Honda CRF150L এর মত off-road বাইক বাংলাদেশে খুব একটা নেই বল্লেই চলে, কাজেই এই বাইকটির বাংলাদেশে ব্যাপক সম্ভাবনা রয়েছে।
- এটিতে যে হালকা ওজনের কালো অ্যালুমিনিয়াম রিম ব্যবহার করা হয়েছে, তা অফ-রোড রাইডিং এর জন্য বেশ সহায়ক।
- এই Honda CRF150L বাইকটির নতুন ডিজাইন করা pillion সিট খুব একটা আরামদায়ক নয়।
- এই বাইকটির curb weight তুলনামূলক কিছুটা কম, তাই বলাযায় এটি হাইওয়েতে রাইড করার জন্য খুব একটা উপযোগী নয়।
Honda CRF150L এর মধ্যে 149.15 সিসি ইঞ্জিন রয়েছে, যা সিঙ্গল সিলিন্ডার, এয়ার কুলড, এসওএইচসি। এটি সর্বোচ্চ পাওয়ার 12.91 পিএস @ 8000 আরপিএম, সর্বোচ্চ টার্ক 12.43 এনএম @ 6500 আরপিএম উৎপাদন করতে পারে। বাইকটি ফুয়েল ইনজেকশন সিস্টেমের সাথে আসে। Honda CRF150L এর সর্বোচ্চ গতি 113 কিলোমিটার প্রতি ঘন্টায়, এবং এর মাইলেজ প্রায় 40 কিলোমিটার প্রতি লিটারে।
Key Features of Honda CFR150L
Price in Bangladesh
Tk.495,000
Mileage Per Liter
40 Kmpl (comb..)
Top Speed Ability
113 Kmph (appr..)
Engine CC & Type
150cc air-cooled
Honda CRF 150L Real Images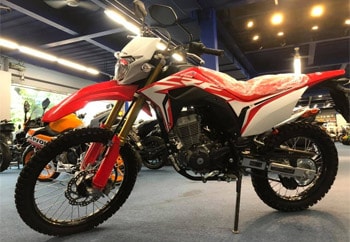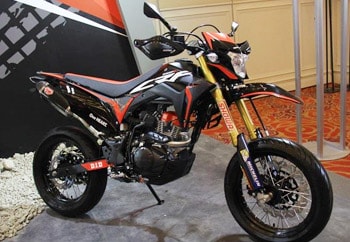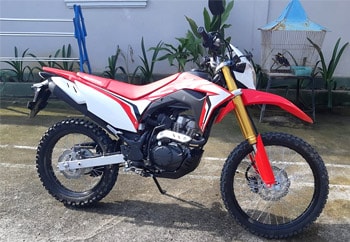 Body Dimensions

Length / Width / Height
2119 mm / 793 mm / 1153 mm
Wheel base
1375 mm
Ground clearance
285 mm
Kerb weight
122 kg
Fuel tank capacity
7.2 litres

Engine Details

Type
4-Stroke, Single Cylinder, SOHC
Displacement
149.15 cc
Max net power
12.91 PS @ 8000 rpm
Max net torque
12.43 Nm @ 6500 rpm
Bore
57.3 mm
Starting method
Electric-Kick
Ignition
Full transistorized

Transmission Details

Number Of Speed Gears
5 Speed

Tyres & brakes

Tyre Size (Front)
80/100 - 21 45P (Deep Tire)
Tyre Size (Rear)
100/100 - 18 59P (Inner Ban)
Brakes Front
240mm Disc
Brakes Rear
220mm Disc

Frame & Suspension

Chassis Type
Semi Double Cradle
Suspension-Front
37 mm USD Forks
Suspension-Rear
Monoshock

Electricals

Battery
12V, 3.5 Ah
Head Lamp
12V
Here mentioned information may not 100% accurate. Most of the information we are collecting from manufacturer website. There is always having a change to make mistake while adding information. Kindly inform us, if you found any kinds of mistake.