Honda CB Shine SP Price in BangladeshWith quick Specifications and Overview
| | |
| --- | --- |
| Honda CB Shine SP (SD) | Tk.146,000.00 |
| Honda CB Shine SP (DD) | Not Available |
Last Update: 05-Sep-23
Motorcycle Loan EMI Calculator
বাইকের কিস্তির পরিমান এবং সর্বমোট মূল্য নির্ণয়ক
Fill in the blanks in English
Quick Overview
Honda CB Shine SP the gentle premium city commuter, which is the updated version of Honda CB Shine. The CB Shine SP is a sporty premium bike in this segment. Which additionally offered CBS braking system also. The main attraction of this bike is it's a complete package of style, comfort and price.
- The Honda CB Shine SP is muscular to look at as a 125cc bike, and the build quality is good enough.
- This bike is one of the best in the 125cc segment of the Bangladesh market in terms of various features analysis.
- The bike CB Shine SP has 125cc stronger engine and synchronized braking system (CBS) facilities. It comes with nice body work including tremendous color and graphic combination.
- Honda CB Shine SP has started manufacturing locally in Bangladesh, As a result its price has reduced several times in this market.
- Considering the size, shape and weight of the CB Shine SP bike, if its rear wheels were a bit thicker, it would have been more comfortable for its riders.
The bike uses 124.7 cc air-cooled, single cylinder and 4-stroke engine. Which is used as it is in Honda CB Shine also. Engine can produce maximum power 10.16 bhp @ 7500 rpm and maximum torque 10.3 Nm @ 5500 rpm. The bike includes 5 speed gears and its maximum speed is around 110 Kmph. Its mileage is 65 Kmpl.
সংক্ষিপ্ত বিবরণ
Honda CB Shine SP একটি ভদ্র ধাচের City Commuter বাইক যা CB Shine এর আপডেট হওয়া সংস্করণ। CB Shine SP এ সেগমেন্টের একটি হালকা স্পোর্টস বাইকের মত, যেটির জ্বালানি ট্যাংক নান্দনিক ডিজাইন করা। Honda এ বাইকটিতে সিবিএস (সিনক্রোনাইজড ব্রেকিং সিস্টেম) ব্রেক ব্যাবহার করেছে। এই বাইকের মূল আকর্ষণ হ'ল এটি স্টাইল, আরামদায়ক এবং দামের মিশ্রনে একটি সম্পূর্ণ প্যাকেজ।
- Honda CB Shine SP একটি 125cc অংশের বাইক হিসাবে এটি দেখতে পেশিবহুল, নির্মাণ মানও যথেস্ট ভালো।
- বাংলাদেশের বজারে 125cc অংশের যে বাইকগুলো রয়েছে, তাদের মধ্যে বিভিন্ন বৈশিষ্ট্য বিশ্লেষণে এই বাইকটি অন্যতম সেরা একটি বাইক।
- হোন্ডা সিবি শাইন এসপি দুর্দান্ত রঙ এবং গ্রাফিক সংমিশ্রণ সহ সুন্দর বডি ওয়ার্ক নিয়ে আসে। সিবি শাইন এসপি বাংলাদেশে স্থানীয়ভাবে উৎপাদন শুরু করেছে, ফলস্বরূপ এই বাজারে এর দাম বেশ কয়েকবার হ্রাস পেয়েছে।
- বাইকটিতে 125 সিসি শক্তিশালী ইঞ্জিন এবং সিঙ্ক্রোনাইজড ব্রেকিং সিস্টেম (সিবিএস) সুবিধা রয়েছে।
- ২০২১ সালের শুরুতেই বাইকটিতে কিছু নতুন রং এবং গ্রাফিক্সের সমন্বয় এসেছে, তবে বাইকটিতে উল্লেখযোগ্য বড় কোন পরিবর্তন আসিনি।
- CB Shine SP বাইকটির আকার আকৃতি এবং ওজন বিবেচনায় এটির পেছনের চাকা আরো কিছুটা মোটা হলে এর রাইডারদের জন্য আরো আরামদায়ক হতো।
বাইকটিতে 124.7 সিসি এয়ার কুলড, সিঙ্গেল সিলিন্ডার 4-স্ট্রোক ইঞ্জিন ব্যবহার করা হয়েছে। এটির ইঞ্জিন সর্বাধিক পাওয়ার 10.16 বিএইচপি @ 7500 আরপিএম এবং সর্বাধিক টর্ক 10.3 এনএম @ 5500 আরপিএম উৎপাদন করতে পারে। বাইকটিতে 5 স্পিড গিয়ার রয়েছে এবং এর সর্বাধিক গতি 110 কিলোমিটার প্রতি ঘণ্টায়। এর মাইলেজ 65 কিলোমিটার প্রতি লিটারে l
Key Features of Honda CB Shine SP
Price in Bangladesh
146,000 BDT
Mileage Per Liter
55 Kmpl (comb..)
Top Speed Ability
100 Kmph (appr..)
Engine CC & Type
125cc air-cooled
Honda CB Shone SP Real Images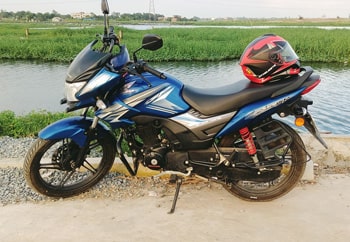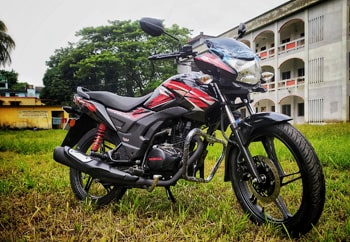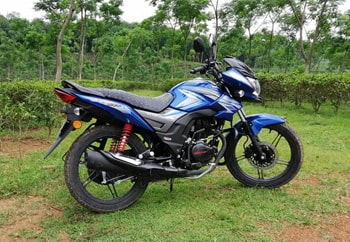 Engine Details
Type
Air cooled, 4 stroke, SI engine
Engine Displacement
124.73 cc
Maximum Power
10.3 PS @ 7500 rpm
Maximum Torque
10.3 Nm @ 5500 rpm
Number of Cylinders
1
Cooling
Air-Cooled
Valve Per Cylinder
2
Driving Type
Chain Drive
Starting Method
Kick and Self Start
Fuel Supply
Carburetor
Clutch
Wet, Multi Plate
Ignition
Digital CDI
Transmission
Gear Box
5 Speed Manual
Bore
52.4 mm
Stroke
57.8 mm
Compression Ratio
9.2:1
Emission Type
bs4
Features & Safety
ABS (anti-lock braking system)
No
Braking Type
Combi Brake System
Speedometer
Analogue
Odometer
Digital
Tripmeter
Digital
Fuel Gauge
Digital
Instrument Console
Analogue and Digital
Pass Switch Availability
Alright
Clock Availability
Alright
Rear Footrest
Alright
Bike Performance
Top Speed
102.92 kmph
Braking (60-0 Kmph)
17.46m
Braking (80-0 Kmph)
24.15m
Chassis
Chassis
Diamond
Body
Commuter Bikes
Suspension
Suspension (Front)
Telescopic Fork
Suspension (Rear)
Spring Loaded Hydraulic Type
Graphics
Alright
Overall Dimension
Length
2007 mm
Width
762 mm
Height
1085 mm
Capacity
Fuel Tank
10.5 L
Fuel Reserve
1.3 L
Ground Clearance
160 mm
Wheelbase
1266 mm
Kerb Weight
123 Kg
Electricals
Headlight
Halogen
Tail Light
Bulb
Turn Indicator
Bulb
Battery
Maintenance Free
Capacity
12 V, 3 Ah
Fuel Indicator
Alright
Tyres
Size
Front :-80/100-18 Rear :-80/100-18
Type
Tubeless
Wheel Size
Front :-457.2 mm,Rear :-457.2 mm
Wheels Type
Alloy
Brakes
Brake (Front)
Disc
Brake (Rear)
Drum
Brake Diameter (Front)
240 mm
Brake Diameter (Rear)
130 mm
Tyre
Radial
Here mentioned information may not 100% accurate. Most of the information we are collecting from manufacturer website. There is always having a change to make mistake while adding information. Kindly inform us, if you found any kinds of mistake.