Quick Overview
Japanese motorcycle brand Yamaha has added another new bike to their fleet in Bangladesh. Which is the youngest member of the Yamaha XSR series Yamaha XSR 155. This is a Cafe Racer Motorcycle. Such motorcycles are very rare in Bangladesh. However, in this country of red and green, quality products are always the priority. Let's see the main features of the Yamaha XSR 155 bike.
- In general, the Yamaha XSR 155 bike looks very simple, but it is unique in the Bangladeshi market for some of its special qualities and features.
- This bike is basically a Cafe Racer type bike based on Yamaha MT-15 motorcycle model.
- The Yamaha XSR 155 bike is basically a 'Sport Heritage' bike, with the same design as the XSR 700 and XSR 900.
- Yamaha XSR 155 will be quite suitable in places like Dhaka city. The rider will be extremely comfortable and easy to control the bike from the proper position.
- The Yamaha XSR 155 bike has Dual Channel ABS, which is very helpful for safe riding.
- The current price of the Yamaha XSR 155 bike in the market of Bangladesh is very high, it does not mean to buy this bike at this price for hard earned money.
- Yamaha has not been able to diversify the design of their XSR 155 bike, at first glance the bike would seem quite ordinary.
The bike uses a 155.1 cc engine, which is a single cylinder, liquid cooled, FI (fuel injection) engine with a maximum power of 19.3 HP @ 10,000 rpm, a maximum torque of 14.7 Nm @ 8500 rpm. This bike has 6 speed manual gear and its maximum speed is 145 kilometers per hour. Its fuel tank capacity is 10 liters and its mileage is about 40 kilometers per liter. More details about this bike are given below.
সংক্ষিপ্ত বিবরণ
জাপানী মোটরসাইকেল ব্রান্ড Yamaha বাংলাদেশে তাদের বহরে আরো একটি নতুন বাইক সংযোজন করেছে। যেটি Yamaha XSR সিরিজের সর্বকনিষ্ঠ সদস্য Yamaha XSR 155। এটি একটি Cafe Racer Motorcycle। বাংলাদেশে এ ধরনের মোটরসাইকেল একেবারেই বিরল। তবে লাল সবুজের এই দেশে মানসম্মত পন্য সবসময়ই অগ্রগন্য। চলুন দেখেনেই Yamaha XSR 155 বাইকটির মূল বৈশিষ্টগুলো।
- সাধারণ দৃষ্টিতে Yamaha XSR 155 বাইকটি দেখতে অতি সাধারণ মনে হলেও এর কিছু বিশেষ গুন এবং বৈশিষ্ট্যের জন্য এটি বাংলাদেশের বাজারে অনন্য।
- এ বাইকটি মূলত Yamaha MT-15 মোটরসাইকেল মডেলের উপর ভিত্তি করে তৈরি একটি Cafe Racer ধরনের বাইক।
- Yamaha XSR 155 বাইকটি মূলত একটি 'Sport Heritage' বাইক, যেটির ডিজাইন XSR 700 এবং XSR 900 এর মতই।
- Yamaha XSR 155 ঢাকা শহরের মত জায়গায় বেশ উপযুক্ত হবে।
- রাইডার অত্যান্ত আরামদায়ক এবং যথাপযুক্ত পজিশনে থেকে বাইকটিকে নিয়ন্ত্রন করতে সহজ হবে।
- Yamaha XSR 155 বাইকটিতে রয়েছে Dual Channel ABS, যা নিরাপদ রাইডিং এর অত্যান্ত সহায়ক।
- বাংলাদেশের বাজারে Yamaha XSR 155 বাইকটির বর্তমান মূল্য অনেকটাই আকাশচুম্বী, কষ্টার্জিত টাকায় এই দামে এই বাইক কিনার মানেই হয়না।
- Yamaha তাদের XSR 155 বাইকটির ডিজাইনে বৈচিত্রতা আনতে পারেনি, বাইকটিকে প্রথম দেখায় একেবারেই সাধারণ মনেহবে।
বাইকটিতে 155.1 সিসি ইঞ্জিন ব্যবহার করা হয়েছে, যা একক সিলিন্ডার, লিকুইড কুল্ড, এফআই (জ্বালানী ইনজেকশন) ইঞ্জিন, যা সর্বোচ্চ শক্তি 19.3 HP @ 10,000 rpm, সর্বাধিক টর্ক 14.7 NM @ 8500 rpm। এই বাইকটিতে 6 গতির ম্যানুয়াল গিয়ার রয়েছে এবং এর সর্বাধিক গতি ১৪৫ কিলোমিটার প্রতি ঘন্টায় এটির জ্বালানীর ট্যাঙ্কের ক্ষমতা 10 লিটার এবং এর মাইলেজ প্রায় 40 কিলোমিটার প্রতি লিটারে। এই বাইকটি সম্পর্কে আরও বিশদ নীচে দেওয়া হল।
Key Features of Yamaha XSR 155
Price in Bangladesh
545,000 BDT
Mileage Per Liter
42 Kmpl (comb..)
Top Speed Ability
145 Kmph (appr..)
Engine CC & Type
155cc liq-cooled
Yamaha XSR 155 Real Images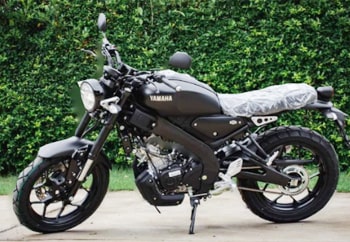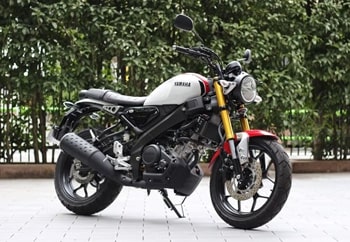 Top Features
ABS Availability:
Single Channel
Body Type:
Sports Naked Bikes
Graphics:
Yes
Starting Method:
Self Start Only
Type of Seat:
Single
Pass Switch Availability:
Yes
Speedometer Category:
Digital
Trip Meter Availability:
Digital
Fuel Warning:
Yes
Clock Availability:
Yes
Stepup Seat:
Yes
Low Oil Indicator:
Yes
Footrest:
Yes
Passenger Backrest:
Yes
Engine Cooling Method:
Liquid Cooled
Instrument Console:
Digital
Odometer Availability:
Digital
Bike Engine
Bike Engine:
Single Cylinder, 4-Stroke, 4-Valve, SOHC
Displacement:
155 cc
Maximum Power:
19.3 PS @ 10000 rpm
Maximum Torque:
14.7 Nm @ 8500 rpm
Emission:
bs6
Bore:
58 mm
Stroke:
58.7 mm
Driving Type:
Chain Drive
Number Of Cyl:
1
Valve / Cylinder:
4
Fuel:
Petrol
Ignition:
TCI (Transistor controlled ignition)
Compression Ratio:
11.6:1
About Transmission
Number Of Gears:
6-Speed
Brake Details
Front Brake:
Disc
Rear Brake:
Disc
Performance and Fuel economy
Mileage (Highway):
52.02 kmph
Mileage (City):
48.58 kmpl
Chassis & Suspension
Chassis:
Delta Box
Front Suspension:
Telescopic Fork
Rear Suspension:
Swingarm
Wheels
Tyre Size:
Front :-100/80-17 Rear :-140/70-17
Wheel Size:
Front :-431.8 mm,Rear :-431.8 mm
Tyre Type:
Tubeless
Radial Tyre Availability:
Yes
Wheels (Steel / Alloy):
Alloy
Overall Dimension
Fuel Tank Capacity:
10 Liters
Tail Light:
LED
Brake Diameter (Front):
282 mm
Brake Diameter (Rear):
220 mm
Electrical Details
Battery Type:
ETZ-5
LED tail lights:
Yes
Signal Lamp:
LED
Here mentioned information may not 100% accurate. Most of the information we are collecting from manufacturer website. There is always having a change to make mistake while adding information. Kindly inform us, if you found any kinds of mistake.