Quick Overview
TVS Metro is an entry level bike with relatively low price. TVS is introducing the bike in the local market as a fuel efficient bike. TVS Metro tops the list of fuel efficient bikes in Bangladesh. Indian company TVS is controlling the price of their Metro model in a great way, as a result of which it is now one of the cheapest bikes. Let's take a look at the main features of the bike and its brief evaluation.
- The bike has a nicely designed analog instrument console, its Econometer is helpful for fuel efficient riding.
- The TVS Metro bike has features like electric start and is effective in any gear.
- In the mileage test, the actual mileage of the TVS Metro bike was found to be 65 kilometers per liter.
- This is one of the cheapest bikes in the market of Bangladesh.
- The TVS Metro bike is relatively small in size, the graphics used in it are quite simple.
- Many people also raise questions about the build quality of this cheap bike.
TVS has used 99.7cc engine in this bike which is single cylinder, 4 stroke, air-cooled, spark ignition engine. It is capable of generating maximum power 7.5 Bhp @ 7500 rpm and maximum torque 7.8 Nm @ 5000 rpm. The maximum speed of the bike is 90 Kmph. See more details about the bike in the description below.
সংক্ষিপ্ত বিবরণ
TVS Metro তুলনামূলক কম মূল্যের একটি Entry Level বাইক। TVS এ বাইকটিকে জ্বালানি সাশ্রয়ী বাইক হিসাবেই স্থানীয় বাজারে পরিচয় করিয়ে দিচ্ছে। বাংলাদেশে জ্বালানি সাশ্রয়ী বাইক গুলোর তালিকায় TVS Metro এর আবস্থান উপরের দিকে। ভারতীয় কোম্পানি TVS তাদের এই Metro মডেলটিতে দারুন ভাবে মূল্য নিয়ন্ত্রন করছে, যার ফল স্বরূপ এটি এখন অন্যতম সস্তা একটি বাইক। চলুন দেখি বাইকটির প্রধান প্রধান বৈশিষ্ট এবং এটির সংক্ষিপ্ত মূল্যায়ন।
- বাইকটিতে চমৎকার ডিজাইনের এনালগ Instrument Console দেওয়া হয়েছে, এটির Econometer জ্বালানি সাশ্রয়ী রাইডিংয়ে সহায়ক।
- TVS Metro বাইকটিতে ইলেক্ট্রিক স্টার্ট এর মত সুবিধা রয়েছে এবং এটি যেকোন গিয়ারেই কার্যকর।
- মাইলেজ টেস্টে TVS Metro বাইকটির আসল মাইলেজ পাওয়া গিয়েছে 65 কিলোমিটার প্রতি লিটারে।
- এটি বাংলাদেশের বাজারে অন্যতম একটি সল্পমূল্যের বাইক।
- TVS Metro বাইকটি আকারে তুলনামূলক কিছুটা ছোট, এটিতে যে গ্রাফিক্স ব্যবহৃত হয়েছে, তা একেবারেই সাদামাটা।
- সল্পমূল্যের এই বাইকটির নির্মাণ মান নিয়েও অনেকে প্রশ্ন তোলেন।
TVS তাদের এই বাইকটিতে 99.7cc ইঞ্জিন ব্যবহার করেছে, যেটি single cylinder , 4 stroke, air-cooled, spark ignition engine। এটি সর্বোচ্চ শক্তি 7.5 Bhp @ 7500 rpm এবং সর্বোচ্চ টর্ক 7.8 Nm @ 5000 rpm উৎপন্ন করতে সক্ষম। বাইকটির সর্বোচ্চ গতি 90 Kmph। বাইকটি সম্পর্কে আরো বিস্তারিত দেখুন নিম্ন বিবরণীতে।
Key Features of TVS Metro
Price in Bangladesh
106,999 BDT
Mileage Per Liter
65 Kmpl (comb..)
Top Speed Ability
90 Kmph (appr..)
Engine CC & Type
100cc air-cooled
New TVS Metro 2019 Images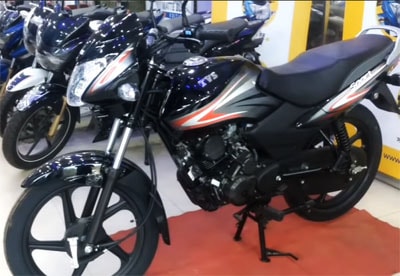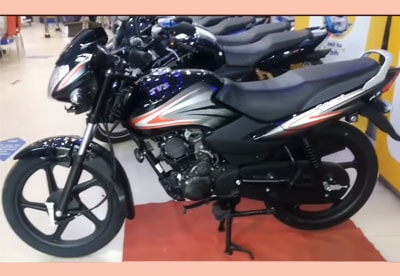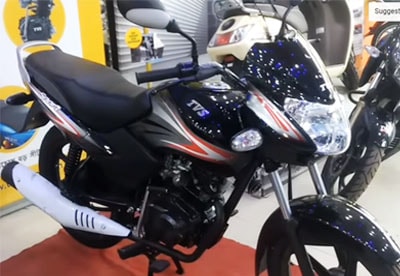 Body Dimensions

Length / Width / Height
1990 mm / 705 mm / 1080 mm
Wheel base
1280 mm
Ground clearance
170 mm
Kerb weight
103 kg -KS/108kg-ES
Fuel tank capacity
12.0 litres (reserve 2 litres)

Engine Details

Type
single cylinder , 4 stroke, air cooled spark ignition engine
Displacement
99.7 cc
Max net power
7.5 Bhp @ 7500 rpm
Max net torque
7.8 Nm @ 5000 rpm
Starting method
Kick
Ignition
AC Digital ignition
Fuel System
Carburetor, Spaco AW 17/Keihin

Transmission Details

Gear type
Manual
Number Of Speed Gears
4 Speed

Tyres & brakes

Tyre Size (Front)
2.75 × 17 -4 Ply rating
Tyre Size (Rear)
3.00× 17 -6 Ply rating
Wheel Type
Alloy
Brakes Front
Drum, 110 mm dia(hand operated)
Brakes Rear
Drum, 110 mm dia (Foot operated)

Frame & Suspension

Chassis Type
Single cradle tubular frame
Suspension-Front
Telescopic Hydraulic Forks (110mm stroke)
Suspension-Rear
5 Stage Adjustable Shockers (79mm stroke)

Electricals

Battery
12V, 2.5 Ah -KS Model ,12V, 5 Ah -ES Model
Head Lamp
12V, 35/35W× 1
TVS Metro Safety Aspects:
Within this price limit, we cannot expect height level of safety features on this bike. But currently TVS Metro has the standard level of safety features like strong leg guard which can protect minor front obstacles. The bike has also the Pass Light features which will help you to overtake and crossing safely. The most significant safety features in this bike is multi reflector headlight the feature can ensure better visibility at night. Also TVS Metro has Long Seat.
Download TVS Metro's complete brochure
TVS Metro's, overview including updated price in Bangladesh
TVS is one of leading Indian motorcycle Production Company which is recently very popular in Bangladesh. Another Indian brand Bajaj is dominating the bikes market both in India and Bangladesh over the last few years, But recently TVS is rising up and has got the maximum offered awards. Now a day's most of the TVS bikes are assembling in Bangladesh, which is made in Bangladesh product. The main things about TVS products are good-looking mileage, durability and comparative low price. In Bangladesh, there are a plenty of product to be had in which some 'TVS Metro' is one of the excellent in reasonably- cheap price and wonderful mileage. There are two versions of TVS Metro are available here in Bangladesh, one is 'TVS Metro ES' and different one is 'TVS Metro KS'. ES defines the electric starting machine and KS defines the kick starting machine. Rest configuration are absolutely alike however due to the starting device, the Price of the motorcycles are exceptional. 'Metro ES' price is little bit higher than 'Metro KS'.
TVS Metro is one of standard type entry level city bikes, which is very popular for its mileage. TVS has very well controlled both mileage and pricing in their bikes. The TVS Metro price is comparatively low on one hand, while its good mileage also attracts buyers. Currently TVS Metro, a popular bike to the peoples of Bangladesh. Now, let's have a look total specification of TVS Metro.
Design & looks: The appears of TVS Metro is very good which has first rate length gasoline tank and well-formed seating role. Except, the motorcycle's headlamp is also appealing in looking and black colored alloy wheels also are nice looking. There is not external kit is placed in the motorcycle that's completely general il looks. The motorbike is ideal for those who wants a handsome mileage with well-known looking motorbike in affordable Price. Though, many younger humans used to experience the motorcycle in Bangladesh however its principal clients are middle aged humans.
Engine performance: The engine of the motorcycle is also trustworthy which could no longer disappoint a rider at the center of the roads. The motorbike includes 99.7 cc engine and may able to generate 5.50 kW @ 7500 rpm max power with likeminded max torque 7.5 @ 5000 rpm. Bore of the bike is extra than torque. Except, there is a good compression ration that's 9.15:1. General 4 pace gearbox is placed into the motorbike. Essentially, better gas green generation is established to the motorcycle that is the most top feature of TVS Metro.
Dimensions & seating role: Measurement of this 100 cc motorbike would impress absolutely everyone which has huge and wide seating function and three men and women can ride on the motorcycle. but, the motorbike is lengthy sufficient to meet the usual length that is 1990 mm lengthy, 705 mm Width and 1080 mm Height. However, the seat peak of the motorbike is 780 mm. besides, the bike has 12 litres capacity fuel tank which include 2 litres reserve. The kerb weight of the bike is 108 kg which is sufficient for a hundred cc motorcycle. The bike is robust however it is popular class motorcycle which must now not trip with top pace. Crossing 80 km in line with hour velocity could be volatile and riders might experience a bit vibration.
suspension & brakes: Telescopic hydraulic fork suspension that's 110 mm stroke is used for the front part of TVS Metro and spring loaded hydraulic suspension is used for the rear wheel which is 78 mm stroke. The suspensions are ideal for fashionable commuter which could provide enough comfort to the riders and pillions. Except, the both brakes of the bike are drum which are 110 mm every. Due to the drum brakes, it's controlling might not be so appropriate in which nowadays in Bangladesh, at least the front disc brake must be used. So, with any luck business enterprise could clear up this difficulty in subsequent replace and update the front drum brake with hydraulic disc.
Mileage: Now, we communicate approximately the incredible mileage of TVS Metro that is excellent for the notable mileage. Usually, the bike might offer at least 75 km mileage on dual carriageway if riders might observe the positive rules and within the identical case, the mileage might now not less than 65 km on metropolis where riders used to face heavy site visitors. So, the common mileage of TVS Metro might be 70 km that's so encouraging.
Device panel & features: The device panel of the motorbike is absolutely analog which consists of analog speedometer, analog tachometer, fuel gauge and a few others. Except, there are low gasoline indicator, trun lamp, effective headlight with pillion grabrail are observed.
Here mentioned information may not 100% accurate. Most of the information we are collecting from manufacturer website. There is always having a change to make mistake while adding information. Kindly inform us, if you found any kinds of mistake.