Suzuki Gixxer SF 155 Old Edition Price in BDWith quick Specifications and Overview
| | |
| --- | --- |
| Suzuki Gixxer (DD) | Tk.219,950.00 |
Last Update: 05-Sep-2023
Motorcycle Loan EMI Calculator
বাইকের কিস্তির পরিমান এবং সর্বমোট মূল্য নির্ণয়ক
Fill in the blanks in English
Quick Overview
Suzuki Gixxer SF 155 Old Edition Bike is equally popular in the market of India and Bangladesh. This bike is a fully-faired and attractive sports bike, which is based on Gixxer's naked bikes. The first and main goal of creating this bike is the young Stylish Biker, who likes to ride naked and sportive bikes. The Gixxer SF is manufactured in a single down-tube frame.
- This bike is a sports bike model of fully-faired attractive design. The main attraction is the excellent design and aesthetic graphics. The bike also has attractive features like dual disc brakes, digital console and LED headlight.
- Updated version of the Suzuki Gixxer SF 155 Old Edition bike is available in Bangladesh. It has added other advanced features, including ABS (anti-lock braking system).
Suzuki uses the 154.9 cc, 4 -Stroke, 1-Cylinder, Air Cooled engine, which is 2 valve and SOHC (Single OverHead Cam) in this bike. The maximum power of the engine is 14.8 PS @ 8000 rpm and the maximum torque is 14 Nm @ 6000 rpm. Carburetor has been used here as a fuel system. Suzuki claims that it is capable of crossing 47 kilometers per liter of fuel. The 5-speed manual gear is used in the bikes. To find out more about the bike, check out the details below.
সংক্ষিপ্ত বিবরণ
Suzuki Gixxer SF 155 Old Edition বাইকটি ভারত এবং বাংলাদেশের বাজারে সমানভাবে জনপ্রিয়। এ বাইকটি fully-faired এবং আকর্ষণীয় Sport বাইক, যেটি Gixxer naked বাইকটির উপর ভিত্তি করে তৈরি। এটি তৈরির প্রথম এবং প্রধান লক্ষ্য হচ্ছে তরুন Stylish বাইকার যারা naked এবং sportive বাইক পছন্দ করে। Gixxer SF একটি একক down-tube ফ্রেমে নির্মিত হয়।
- এ বাইকটি fully-faired আকর্ষণীয় ডিজাইনের একটি Sports বাইক মডেল। যেটির মূল আকর্ষনই হচ্ছে চমৎকার ডিজাইন এবং নান্দনিক গ্রাফিক্স। এছাড়াও বাইকটিতে রয়েছে ডুয়াল ডিস্ক ব্রেক, ডিজিটাল কনসোল এবং এল.ই.ডি হেড লাইট এর মত আকর্ষণীয় সব সুবিধা।
- Suzuki Gixxer SF 155 Old Edition বাইকটির হালনাগাদ ২০১৯ সংস্করণ বাংলাদেশে পাওয়া যাচ্ছে। যেটিতে ABS (anti-lock braking system) সহ অন্যান্য আরো আধুনিক সুবিধা সংযোজন করা হয়েছে ।
সুজুকী এই বাইকটিতে ১৫৪.৯ সি সি ৪-স্ট্রোক,১-সিলিন্ডার, এয়ার কুলড ইঞ্জিন ব্যবহার করেছে, যা ২ ভালভ বিশিষ্ট এবং SOHC (Single OverHead Cam)। ইঞ্জিনে সর্বোচ্চ ক্ষমতা ১৪.৮ পিএস @ ৮,০০০ আরপিএম এবং সর্বোচ্চ ঘূর্নন বল ১৪ এনএম @ ৬,০০০ আরপিএম। এটিতে কার্বোরেটর ব্যবহার করা হয়েছে। সুজুকির দাবি প্রতি লিটার জ্বালানিতে এটি ৪৭ কিলোমিটার পথ অতিক্রম করতে সক্ষম। বাইকটিতে ৫ গতির গিয়ার ব্যবহার করা হয়েছে। বাইকটি সম্পর্কে আরো জানতে নিম্নে বর্ণিত সবিস্তার বিবরণী দেখুন।
Key Features of Suzuki Gixxer SF
Price in Bangladesh
219,950 BDT
Mileage Per Liter
40 Kmpl (comb..)
Top Speed Ability
127 Kmph (appr..)
Engine CC & Type
155cc air-cooled
Suzuki Suzuki Gixxer SF 155 Old Edition Real Images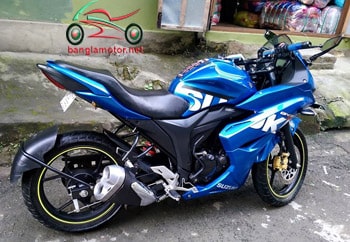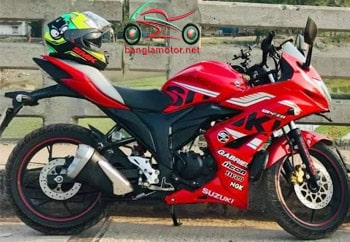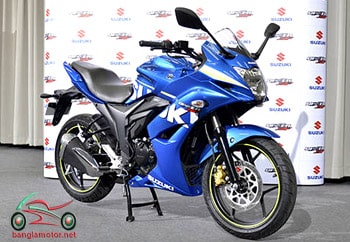 Body Dimensions

Length / Width / Height
2050 mm / 785 mm / 1085 mm
Wheel base
1330 mm
Ground clearance
160 mm
Kerb weight
139 kg
Fuel tank capacity
12 litres

Engine Details

Type
4-stroke, 1-cylinder, air-cooled, BS4
Displacement
154.9 cc
Max net power
14.6 BHP @ 8000 rpm
Max net torque
14 NM @ 6000 rpm
Bore
56.0 mm
Starting method
Kick/self

Transmission Details

Gear type
Manual
Number Of Speed Gears
5 Speed

Tyres & brakes

Tyre Size (Front)
100/80-R17
Tyre Size (Rear)
140/60-R17
Wheel Size
Front :-17 inch, Rear :-17 inch
Brakes Front
266mm Disc
Brakes Rear
240mm Disc

Frame & Suspension

Chassis Type
Single Downtube
Suspension-Front
Telescopic
Suspension-Rear
7-step adjustable rear mono-shock suspension

Electricals

Battery
12 V - 3 Ah
Head Lamp
12V 35/35W (AHO)
Here mentioned information may not 100% accurate. Most of the information we are collecting from manufacturer website. There is always having a change to make mistake while adding information. Kindly inform us, if you found any kinds of mistake.