Quick Overview
Due to motorbike engine cc limit, very few of quality cruiser bikes are in Bangladeshi marketplace. The Avenger 150 is a quality cruiser bike which is marketed by Bajaj via uttara motors limited. It's also an entry level cruiser bike.
- There is no noticeable change to this bike at the beginning of 2020.
- Bajaj has officially stopped selling this bike model in the Bangladesh market.
Bajaj used 149 cc engines in the bike, which has the maximum power of the engine 14.3 BHP @ 9000 rpm, Single Cylinder, 2 Valve, Twin Spark, DTS-I Engine, and maximum torque 12.5 Nm @ 6500 rpm. It has a 5-speed manual gear, and the bike is capable of crossing the maximum 45 kilometers per liter of fuel. Its highest speed is 105 kilometers.
সংক্ষিপ্ত বিবরণ
বাংলাদেশে মোটরসাইকেল এর ইঞ্জিন সি সি বাধ্যবাধকতা এর জন্য ভাল মানের Cruiser বাইকের ঘাটতি রয়েই যাচ্ছে। সনামধন্য ব্র্যান্ডের অল্প কিছু Cruiser বাইক এখানে পাওয়া যাচ্ছে। বাজাজ তাদের প্রারম্ভিক স্তরের Avenger 150 ক্রুজার বাইকটি Uttara Motors এর মাধ্যমে বাংলাদেশে বাজারজাত করে আসছে।
- ২০২০ সালের শুরুতে এই বাইকটিতে উল্ল্যেখযোগ্য কোন পরিবর্তন আসেনি।
- যদিও Bajaj অফিসিয়ালি বাংলাদেশের বাজারে তাদের এই বাইক মডেলটি বিক্রি বন্ধ করে দিয়েছে।
Bajaj এ বাইকটিতে ১৪৯ সি সি ইঞ্জিন ব্যবহার করেছে, যা Single Cylinder, 2 Valve, Twin Spark, DTS-I Engine, এ ইঞ্জিনটির সর্বোচ্চ শক্তি 14.3 BHP @ 9000 rpm এবং সর্বোচ্চ ঘূর্ণন বল 12.5 NM @ 6500 rpm। এতে রয়েছে ৫ গতির গিয়ার, এবং এ বাইকটি প্রতি লিটার জ্বালানীতে গড়ে সর্বোচ্চ ৪৫ কিলোমিটার পথ অতিক্রম করতে সক্ষম।এটির সর্বোচ্চ গতি ১০৫ কিলোমিটার।
Key Features of Bajaj Avenger
Price in Bangladesh
199,500 BDT
Mileage Per Liter
40 Kmpl (comb..)
Top Speed Ability
110 Kmph (appr..)
Engine CC & Type
150cc air-cooled
Bajaj Avanger 150 Real Images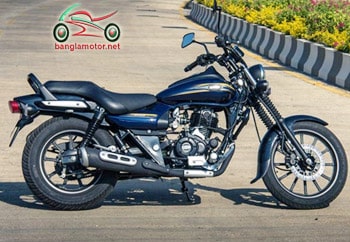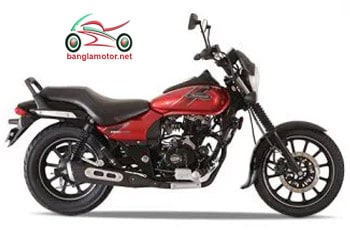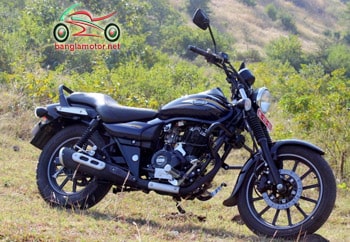 Body Dimensions

Length / Width / Height
2177 mm / 801 mm / 1070 mm
Wheel base
1480 mm
Ground clearance
169 mm
Kerb weight
148 kg
Fuel tank capacity
14 litres

Engine Details

Type
Air-Cooled, 4-Stroke, Twin Spark, 2-valve, DTS-i engine
Displacement
149 cc
Max net power
14.3 BHP @ 9000 rpm
Max net torque
12.5 NM @ 6500 rpm
Starting method
Electric-Kick
Ignition
Digital Twin Spark Ignition
Fuel System
Carburetor

Transmission Details

Gear type
Manual
Number Of Speed Gears
5 Speed

Tyres & brakes

Tyre Size (Front)
90/90 - 17" 49P
Tyre Size (Rear)
130/90 - 15" 66P
Wheel Size
Front :-17 inch, Rear :-17 inch
Brakes Front
240mm Disc
Brakes Rear
130mm Drum

Frame & Suspension

Chassis Type
Tubular Double Cradle Type
Suspension-Front
Telescopic with anti-friction bush
Suspension-Rear
Twin Shock Absorbers

Electricals

Battery
12 V, 4 Ah
Head Lamp
55/60W (white hue headlamp)
Here mentioned information may not 100% accurate. Most of the information we are collecting from manufacturer website information. There is always having a change to make mistake while adding information. Kindly inform us, if you found any kinds of mistake.