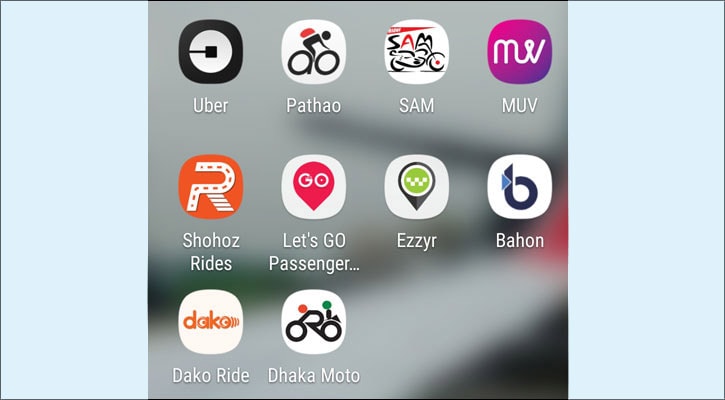 Motorcycle Freelancing or Ride Sharing
Jobless unemployed or people of different categories like Students are a great opportunity to earn money in Bangladesh. In this nation of unemployed, it is a great possibility to see the possibility of this. Although growth in the developing country like Bangladesh is not as high as it is expected to be employment. As a result, unemployment is increasing day by day. According to a statistics by the Bangladesh Bureau of Statistics (BBS), the number of active people aged 15 years in the country according to the calculation of the fiscal year 2016-17 is 10.11 million. Among them, there were 26 lakh 80 thousand unemployed. And this number was 26 lakhs in the fiscal year 2015-16. In this case, the number of unemployed increased by 80 thousand in one year. Among the higher educators, the unemployment rate is high. That means 11.2 percent of total unemployment is highly educated. One of them is a large part of the people who are not able to do any job as a good worker, as a worker who is not ashamed or overwhelmed. It is a great blessing for them to have motorcycle freelancing or ride sharing in Bangladesh. By the system both party will be benefited. The concept is going very popular in Bangladesh, especially in capital city Dhaka a large number of motorcycle freelancer is working actively.
Preparation before you hope in this profession,
A bike or Motorcycle (rough quality, but must be fit).
Motorcycles license
Motorcycle Driving License
Personal Protective Equipment (PPE), (helmet, safety boots, sunglass, suitable clothing).
The most basic use of a smart phone and internet connection
Motorcycle safety equipment (good quality lock).
Efficient Driving, According to the situation.
Which class is suitable for the profession?
College or university students: Many students have motorcycles in Bangladesh, if the appropriate preparation or necessary equipment mentioned above, the students can easily earn some money by sharing their part time rides. Which will contribute to its personal and the overall economy of the country.
Employees: There are many people who use motorcycles in their office or other activities, if they wish, they can share their rides at different times or on the go. However, it must be in accordance with the said rules.
Those who have no action (unemployed): This is a great blessing for those who are still unemployed or have not yet received any suitable action. For example, this prestigious profession can start using new or old motorcycles and a smart phone. Suppose you want to start with a new motorcycle, you have to count 80 thousand to 1 million 30 thousand taka. And if you want to master the used motorcycle, the cost will be reduced further.
People of different categories are also Peoples of different categories of Bangladesh who use regular motorcycles, if they wish, they can share their rides even for a short time.
How and which company to join?
In Bangladesh, a number of companies are currently operating in the mobile application based business, among them Uber, Pathao, Sohoz, Let's Go, Ezzyr, Bahon, Dako Ride, Dhaka Moto etc. You can start with any of the choices mentioned here. The registration process of all the companies is almost the same. The specified company's application should be registered and registered as a service provider. In this case, some companies verify the fitness, licensing, and other things of a bike or motorcycle. Only the advocates accept their service providers.
Which motorcycle is suitable for professional ride sharing?
In recent times, the young unemployed people are heading towards this profession. But many candidates do not know which bike or motorcycle is appropriate for this profession. As a result, they did not succeed in this profession in many respects. Based on the current price of motorcycles, fuel efficiency, riders comfort and considering the local road in Bangladesh, BanglaMotor has done a research that which bike or motorcycle in Bangladesh is more suitable for ride sharing. Below we have given a short list.
Safety: Personal safety is often questioned about motorcycle ride sharing. Is it safe to ride safely? There are many different types of ideas in this regard. There are several rumors of irregularities and unsafe riding. However, after leaving all the speculation, the government issued the Gazette of the countryside on February 28, 2012, and the January 15th approval of the Ruleside Services Policy cabinet.
Ride sharing policy by the Bangladesh government (applicable to the company)
The company will have to obtain the certificate of enrollment from the Bangladesh Road Transport Authority (BRTA).
The owner of the application must be pay TIN and regular VAT. If the company is to take the company's registration from the joint stock.
Must have own office.
There vehicle will be at least 100 in Dhaka, 50 in Chittagong and 20 in other cities to provide services to Dhaka.
Cars must have tax payment and route permit updates from BRTA.
There should be a compromise agreement between the owner and the driver.
Vehicle cannot be parked outside the parking area.
There should be detailed information on the service provider, owner and driver of the BRTA website.
Applicants will have to submit another fee, along with an amount of one lakh taka. The enrollment period will be three years. After that it has to be renewed. Renewal fee will be 10 thousand taka.
Online complaints can be made against owners and drivers.
Cancellation of certificate of registration for disciplinary proceedings, including cancellation of law, will be filed in current law.
These terms apply to motorcycles and motor vehicles.
To know more about ride sharing details in Bangladesh, directly contact with BanglaMotor, we are here to assist you regarding this.